! -- Created 1998, Eileen M. Carron, All rights reserved. --> <! -- © Copyright 1997-2001 Refiner of Gold Creations -- > <! -- refiner.htm -- >
Refiner of Gold Creations

Feathered Friends
Meet some of the exotic friends that I have cared for from time to time.

The Peacock
Here he is with his tail all fanned out in display
(the hen was ignoring him).

A real bird of paradise???


Note: Avon Products produced a women's cologne decanter in the 1960s of a peacock in a similar position and called it "Bird of Paradise"
The Red-Gold Pheasants
The young male.
This guy wants to see who's behind the camera.
His mate is hiding behind the cedar branches
in the upper right hand corner.
The Bob-White Quail
These guys are real flighty and don't like humans to be too close.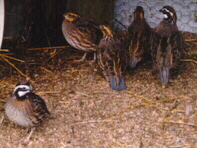 The Doves
| | |
| --- | --- |
| The ring-necked doves . . . | and their tangerine neighbors. |
| | |
The white doves were too shy to have their picture published.